Mel & Mary Louise Winton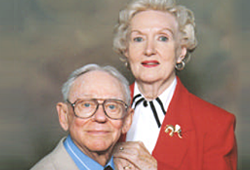 "THE MORE WE GAVE AWAY THE MORE WE RECEIVED"
Mary Louise Smith was raised as a Baptist in Pennington Gap, Virginia and taught school in Lee County for 23 years. She first visited First United Methodist Church of Oak Ridge with her mother in the 1960's, where Mel Winton, a life-long bachelor, served as a greeter. Mary Louise certainly caught Mel's eye and in 1967, Rev. Cecil Hardin performed their wedding ceremony at the church. The Winton's were faithful church members, who never missed church or Sunday school services unless there was illness, impassible roads due to the weather, or they were out of town. This church was their life and they lived life to its fullest.

Mel was a very understated and generous man - never one to seek the limelight, but always a steady worker. Giving of his means and time was one of his greatest joys. Mel first joined First United Methodist Church of Oak Ridge on June 7, 1945. He had a special love for the mission outreach of the church. Mel also had a special love of learning. He was a Georgia Tech graduate and an engineer by trade.

After their marriage, Mary Louise taught school another 23 years in Oak Ridge. Mary said she knew Mel was different, right from the start of their marriage when he brought a Bible along on their honeymoon. Mel believed in prayer and knelt at the side of the bed each night thanking God and naming each pastor and staff member of the church by name. They never ate a meal in their home without thanking God first.

Life was not always easy for the Winton's, but God blessed them in many ways. To quote Mary Louise, "We both knew the difference between our wants and our needs. We both thanked God every day and I still do. One important way we thanked God was through our financial giving to God's work. In our giving through this church and through other charities and mission projects, we gladly gave beyond a tithe or 10% of our income. Mel really taught me the joy of giving...it seemed that the more we gave away the more we received."

The Winton's did more than just give money to their church and to support missions - they also got involved. They traveled to Henderson Settlement, Red Bird Mission, Deer Lodge, and to other mission projects. They were also blessed to attend The World Methodist Council meeting in Nairobi, Kenya in 1986 and visited struggling Methodist churches and hospitals in Zimbabwe. There they saw and experienced the global church that we are all part of as United Methodists.

Earlier this year, Mary Louise Winton created THE MEL AND MARY LOUISE WINTON ENDOWMENT in loving memory of Mel, who died on January 2, 2004. It is funded through a CHARITABLE GIFT ANNUITY established through the Foundation that will provide her an income of 9.2% the rest of her life. The proceeds will fund the Endowment, which will distribute annual earnings to First United Methodist Church of Oak Ridge to be used for missions as directed by the church mission team.
A charitable gift annuity is a great way you can make a gift to our organization and benefit. You transfer your cash or property to our organization and we promise to make fixed payments to you for life at a rate based on your age.