Mattye K. Bowman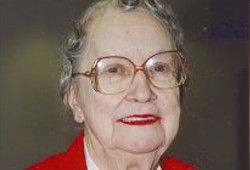 Endowment Will Fund Pension for Others
MATTYE KIRBY BOWMAN was born the third of twelve children to Sam and Stella Nation, Kentucky tenant farmers. She was baptized as a young girl, but her "true conversion," when she really became a Christian, happened at age 25 and she wanted to tell everybody about it. Two weeks later, she began a four-year stint teaching Sunday school at a rescue mission and the desire to tell everybody about it deepened into a call to evangelistic ministry. Her first revival lasted 17 days, with 69 converts.

She came to Knoxville in 1942, "at the Lord's leading," to continue her revival preaching. Her first church was Bright Hope Church, which averaged 20 people in Sunday school. Bishop Paul Kern granted her the privilege to preach without a license and for 14 years she was the only woman preaching in Holston Conference. When she left the church six years later, Sunday school attendance had grown to more than 100.

She and G. C. Kirby, her husband of 55 years, had no children. At age 75, while doing a skit entitled "Me and Pa," she met Harry Bowman, a retired United Methodist minister who would become her second husband. She also did Minnie Pearl imitations and impromptu comedy routines, wrote poetry, and made quilts.

In her ninety-fifth year, "Miss Mattye" said in an interview, "I'm glad I was a pioneer of the clergywomen's part of the United Methodist Church. I'm happy I've spent my life in the Lord's service. I'm real well satisfied with what I turned out to be.

"At her death in August 2007, at the age of 99, she was the oldest member of Fairview UMC in Maryville, where she volunteered in Glasses for the Masses, a mission program that distributes eyeglasses to the poor in countries from Paraguay to Russia.

Mattye was deeply devoted to her fellow ministers in the Holston Conference and changed her will during the Legacy of Commitment Campaign to give her house to the Conference, which was to be sold to support ministerial pensions.

Now her name will live on even beyond these memories through THE MATTYE K. BOWMAN PENSION SUPPORT FUND, recently named in her honor. The endowment came from the gift of her estate to the Foundation for the Legacy of Commitment Campaign to fund pensions for retired pastors. The Rev. Cliff Amos, Foundation Director of Gift Planning, remembers visiting with Bowman and hearing of her interest in helping other retired pastors. "I cannot give anything while I am living, but when I die, I am going to give my house," Amos remembered. Mattye set an example to us all through her lifetime and then did it again through her death. Her Legacy will be remembered!
A charitable gift annuity is a great way you can make a gift to our organization and benefit. You transfer your cash or property to our organization and we promise to make fixed payments to you for life at a rate based on your age.