Ruth Creasy Fleshman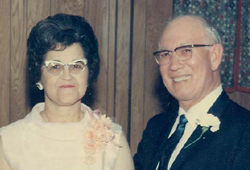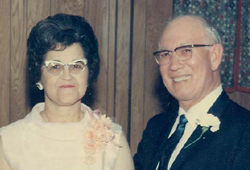 Making a Lasting Difference
Ruth Creasy was born in Jenkinjones, West Virginia and moved to Bluefield in 1925 where her family became very active members of the Methodist church. Her parents gave the lot in 1946 for Virginia Avenue United Methodist Church. Ruth eventually married Elmo and they supported the church with their time and treasure. She sang in the choir, cleaned the kitchen and both of them served in many leadership capacities. They lived just half a block from the church and became life-long friends of many of the pastors. Ruth and Elmo were not into possessions, but were very interested in life and God's word. Elmo died in 1987 and Ruth lived another 20 years before passing away in 2007.

Have you ever been mad at your church? Ruth for whatever reason got a little upset with her church or pastor or God so much so that in her will she asked that her funeral service not be held at the church. But here is the rest of the story - while she may have been upset - deep down inside she loved her church so much that she left a very significant trust fund to benefit maintenance of the church. Through her estate she also created THE RUTH CREASY FLESHMAN & A. ELMO FLESHMAN ENDOWMENT that will make annual distributions to Holston Home, a scholarship to Hiwassee College for a student from Bluefield, and to Asbury for retired ministers and spouses. Special thanks to Rev. Ray Amos, Sr., Bluefield UMC, for connecting the Foundation with Ruth's niece, Sara Metcalfe, in order to finalize this lasting legacy.
A charitable gift annuity is a great way you can make a gift to our organization and benefit. You transfer your cash or property to our organization and we promise to make fixed payments to you for life at a rate based on your age.